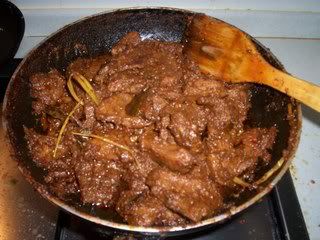 U
ntuk bikin rendang yg praktis, biasanya Cielz mengandalkan bumbu instant. Tapi ga ada salahnya, sesekali kita coba sendiri pakai bumbu yg fresh. Ini salah satu resepnya :)
Part 1
3 salam leaves 
3 lemon leaves 
1 cinnamon stick 
5 buah cengkih/cloves 
2 tbs palm sugar 
2 tsp salt 
2 cans of coconut milk 
1 kg daging sapi/beef, sliced 
2 tbs oil
Part 2 
12 shallots 
10 garlic 
6-8 chillies 
5 cm ginger 
2 lemon grass 
8 cm galangal 
1 tsp black peppercorn
Method:

Blender all part two ingredients with some water , set aside 
Cut meat, set aside 
Prepare all part 1 ingredients, set aside 
Warm up oil in a big pan, stir in the paste and wait until fragrance. 
Place the sliced beef inside the pan, stir together. 
Add all ingredients part 1 but only add 1 can of coconut milk. 
Let them boil on medium heat for about an hour. 
Turn to low heat, add another can of coconut milk 
Cook for another hour 
You will notice that oil will come out, continue stirring for about half an hour until you get dark brown color on rendang.
Serve them warm.